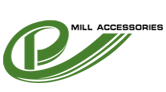 Zhengzhou Reafine Commerce Co.,Ltd (Former Anyang Yitong business & Trade Co.,Ltd)is one of the largest manufacturers of flour ,grain and oil machinery components in China. It is a qualified enterprise, meeting FDA specification and ISO9001 standard.
Due to business expansion, in 2013,it has moved from Anyang city to Zhengzhou city. Zhengzhou is the capital city of Henan province and also in the middle of China which is known as the national traffic hub. The world cultural heritage Shaolin Temple is also located in Zhengzhou.
We possess advanced production facilities and professionally produces all kinds of flour milling components, including Warehouse building equipment,Steel silo production machines sieve cleaner,filter mesh,nylon mesh,elevator bucket,acrylic tube,Polyester flour bolting cloth, polyester screen printing mesh ,some other stainless steel mesh for printing and filtering. Our products are widely applied in high-density printed circuit boards,CDs,ceramics, printing of T-shirt textiles, and advertisement signpost making etc..They also serve as filter in aerospace, petrifaction and other high technology regime.
......